You are here
10 things every leader should know
Leadership comes in all different shapes and sizes. Just look at the two most recent CEOs of Apple: Steve Jobs and Tim Cook. Both have very different ways of leading. Cook is known to be more amicable and communicative. Cook said "We have talked about things and been more transparent about what we're doing". Jobs on the other hand was famously demanding and strident, with Ken Segall, a former Apple employee saying "all the big decisions were made with relatively few people". Just as people have varied personalities, work styles, traits and habits, these differences translate into multiple leadership styles. If you're introverted , for example, your leadership style will be wildly different from someone who is extroverted. And the average style of leadership in Spain will be significantly different in comparison to that in Japan or perhaps the Nordics, as culture also plays a huge part. But, regardless of where you are from or your personality there are some essential things that every leader should know. Here are our 10 things every leader should know :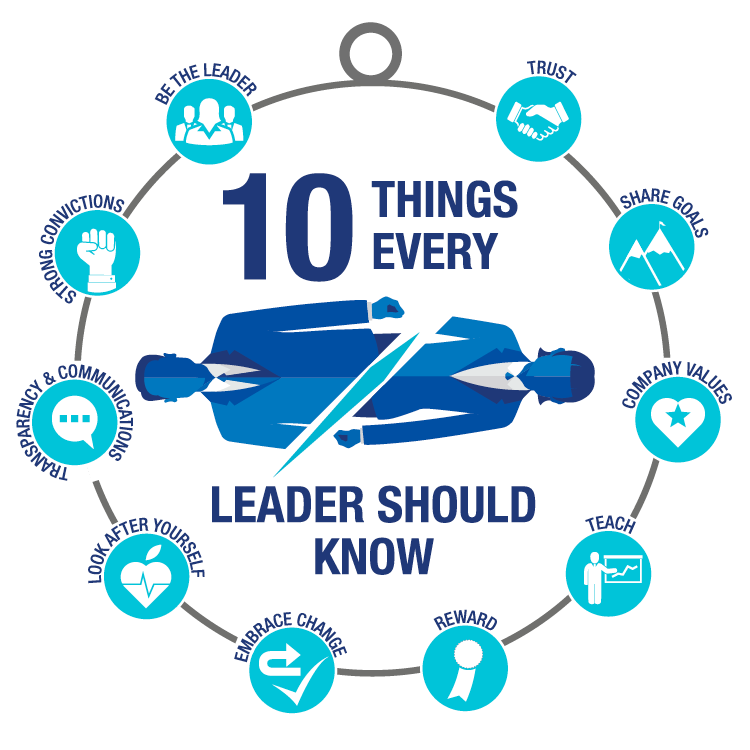 TRUST

By making good business decisions, executing properly and showing confidence in your leadership, you will engender trust in your team which will subsequently lead to success.

CREATE SHARED GOALS

Having common and shared goals will help you in determining your employees' potential and how each member can contribute to the success of the company. It is also a very inclusive approach creating a better sense of community.

BE YOUR COMPANY VALUES

Before you communicate your company goals or brainstorm what they might even be, you need to live them. Your values should be at the core of who you are before you broadcast them.

TEACH

Good leaders impart knowledge. In doing so you will help employees to grow and flourish. This will encourage them to one day create and lead on their own.

REWARD GOOD BEHAVIOUR

When someone does something exceptional, share the news with the team. In doing so you create a culture that rewards good behaviour and this will in turn motivate your team to do well.

EMBRACE CHANGE

Change is a natural occurrence in life and in business. Good leaders are always prepared for change and seek out opportunities in times of flux.

LOOK AFTER YOURSELF

No one wants an overworked and unhappy leader. Making sure you get enough sleep and a good work life blend will ensure you're ready to tackle any challenges. And your employees will appreciate it too.

TRANSPARENCY AND COMMUNICATION

Fostering positive communication and transparency will promote honesty in the work place. It will also mean people will feel free to speak their mind truthfully and without hesitation.

HAVE STRONG CONVICTIONS

Say what you believe and stand by it. Any good leader should have high standards and wants to drive change, having belief in yourself and your convictions will make you a confident leader.

BE THE LEADER YOU NEEDED

When you were progressing through your career, remember the times when you needed a leader. Be that person. Be the leader you needed in your career.
For more advice on management visit our employer centre.