Build a successful career with Michael Page
 
No two profiles are the same. To help give your career the right direction, consulting with HR experts is important. Our consultants from Michael Page are highly specialized HR recruiters and have extensive market knowledge. Use our services to reach your full potential. As a global recruitment consultancy with local expertise, Michael Page can help you find the right job and get the most value out of your skill set.
Are you ready for the next career step? Apply now!
Want to kick start your career and find an exciting new role?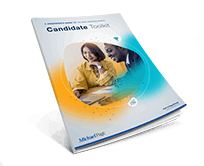 Download our free guide to succeeding in your new job hunt and navigating the new working world.
---
Job search
 
If you want a permanent, temporary or interim role Michael Page can help you take the next step in your career. Choose one of the following options to find your dream role:
 
Our job offers
Are you looking for a new job or do you simply want an overview of the current job market in Austria? Our consultants are experts in their field and can support you in finding your next project. Michael Page has a wide range of open permanent, temporary and interim roles.
---
One Click Apply
With our one-click application, you can send your resume with a single click – without filling in additional information. You avoid the time-consuming procedure of uploading your CV for each application and having to enter your data in an application form repeatedly. Create a profile and apply to interesting vacancies quickly and conveniently.
---
Submit CV
An unsolicited application shows that you are proactive — a sought-after quality for companies. If you do not immediately find a vacancy that interests you, we offer you the opportunity to send us your application. Our HR consultants will get in touch with you if they find a suitable job for your profile. Would you like to submit an unsolicited application for a specific company? Then send us your CV and one of our consultants will contact you.

Send us your CV through LinkedIn, Dropbox, Google Drive or upload directly from your computer and select your sector, location and role. .
---

Register for MyPage
Would you like to keep an eye on your activities?
Create your MyPage account now and benefit from many useful features:
Save interesting job vacancies and up to three CVs
View your applications
Create an unlimited number of search agents
Take advantage of our 1-click application
---

Career Advice
Are you looking for helpful tips and tricks?
Our career pages cover a wide range of topics from everyday applicants. Which job is right for me? How do you write a convincing CV and covering letter for a recruiter? Learn how to improve your skills, gain important knowledge of the current market and plan your next career step with our Advice section.
The satisfaction of our candidates, clients and employees is very important to us.